Intensive nursing support in therapeutic environments for people living with dementia, Alzheimer's and other cognitive impairments. Our nurses are here for your loved ones around the clock, seven days a week.
Working within our care philosophy of person-centred care, our dementia care service looks to empower each resident to function at his or her highest and best potential. We support our residents in maintaining their independence for as long as possible, in making their own decisions and choices regarding their daily life and activities. Our care team, comprising of nurses, carers, activity coordinators help make every day as meaningful and enjoyable as possible to promote residents' wellbeing and meet their complex needs.
Individual care plans are developed following collaboration of the care team and relatives or friends, incorporating as much detail as possible about a resident's life history, interests and personal preferences.
Nurses are trained in intellectual disability, gerontology and dementia and all staff are trained to provide specialised care to residents with complex physical, psychological or emotional needs. 
Our emphasis is on achieving the highest possible quality of life for our residents.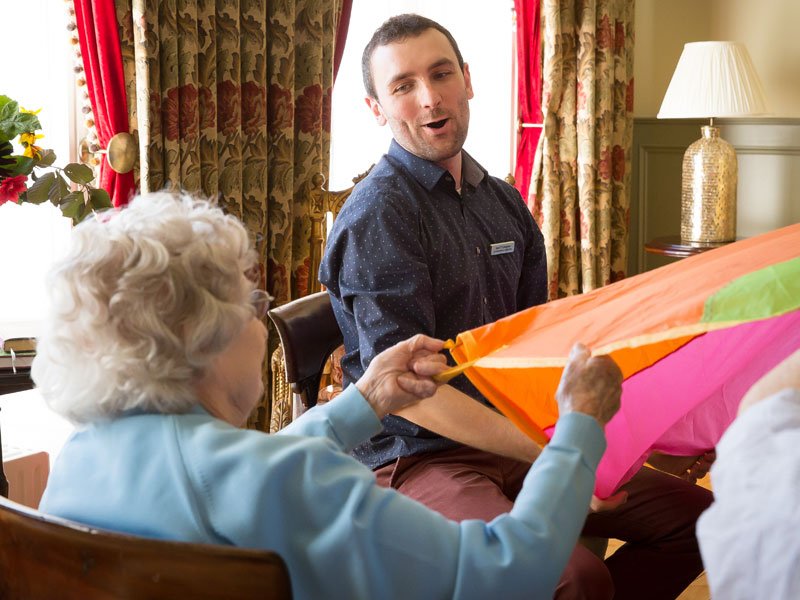 Therapies
– Sonas Stimulation Therapy
– Reminiscence Therapy
– Reflexology
– Personal Care
– Occupational Therapy
We strive to promote an optimal quality of life through a progressive approach to residents' social and spiritual care, with constant care and companionship.
Our Care Centres offer cognitive-specific activity programmes. Our calendars provide for a wide variety of meaningful activities that engage, entertain and build on each resident's unique abilities, strengths and interests they may have enjoyed before moving to our care centres.
There is always something happening; from art, reminiscence, music and dancing to pet therapy, weekly mass, exercise classes and pampering. We also host summer barbecues and family fun days. 
Our unique approach to planning social events starts by finding out what our residents like to do.
We arrange individual and group outings into the community and further afield to suit all interests. 
We value open and close relationships with residents and their families. Our support team builds strong partnerships with you to provide individualised care and support every step of your dementia journey.
Call us in confidence on
022 34693
or send us a message below. We will respond to you within 24 hours.